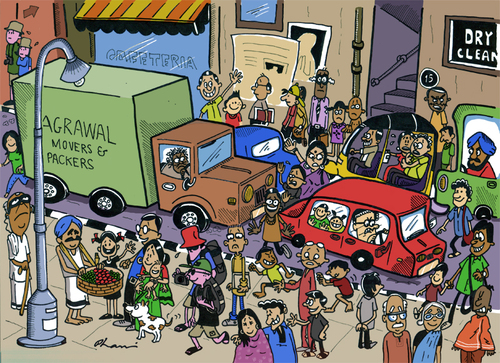 Street becomes busy soon after sunrise. People come out of their houses for different intents and purposes. Someone is walking down the street to bring curd for his breakfast. Another is going to the 'kulcha-wala' to buy hot 'kulchas' and 'Naans'. Some old men and women are coming back from their morning walk.  Street presents very interesting scene provided a man has time to sit for a while and observe what is going on in the street.
You can see a few beggars begging alms. It is very interesting to see how they convince people to get alms from them. They call Haji sahib to a bearded person, a Babu Sahib to a young man who could not get through his h.s.s examination and pahalwan ji to a slim and thin person and get from them. Then you will see a hawker pushing a handcart with variety of vegetables on it.
The very chanting (hymn) of the vegetables is not only impressive and humorous but also poetic. They are selling their vegetables at a reasonably price by praising their vegetables. It is very interesting to see a prosperous and thriving house wife bargaining with the hawkers. The milkman also arrives in the meantime with the big containers full of milk which can easily be termed as 'kachi lassi' because a lot of water has been mixed with milk. you can also meet a few others hawkers selling their articles ' employees going to their  offices, school children dressed in  school uniforms going to school, laborers'  going to their factories and housemaids entering different houses where they work. In short a street presents an arousing curiosity scene.